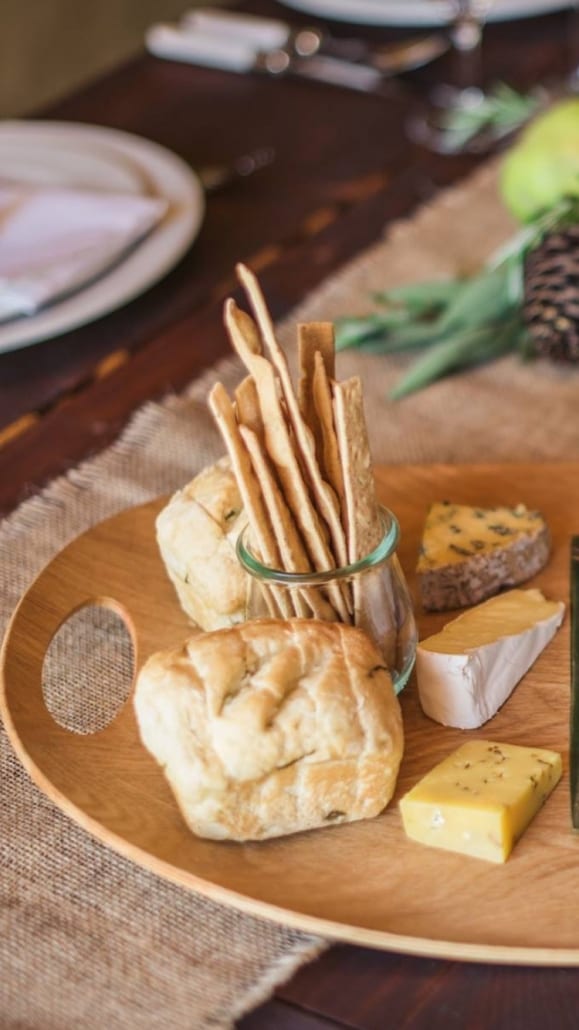 Gluten is a protein and is found in grains such as spelt, wheat and rye.  Gluten is a useful when making bread and pasta as when the flour (which contains gluten) is mixed with water, it creates a glue-like "sticky" consistency, making the dough strong and elastic.  It gives bread a delicious chewy texture. Salt also helps to preserve the strength of gluten. 
On the other hand, when butter is added to a dough mixture, it shortens the strands of gluten, making the dough "short".  Butter contains fat, and the fat weakens the strands of gluten, so they can't join together to make a strong elastic dough.  This is why butter is added to dough such as brioche, short pastry or baking which require a soft tender mixture.
Gluten is getting a bad wrap lately, and many people have the perception that gluten is harmful.  However, this is not the case unless you are intolerant or have Coeliac disease.  Although these come at a higher price point, there are a lot of great gluten free alternatives on the market these days such as gluten free flour, Spelt or rice flour which means that people with intolerance's can still enjoy baking.  Some Baking Powders also contain a starch made of wheat, to give it a light powder like consistency and stop it avoiding moisture from the atmosphere, so make sure that you read the label before purchasing baking powder.
Gluten free meals are very simple, especially if you use a Gluten Free starch such as rice to base your dish around.  We love Jenny's recipe for Teriyaki Salmon.  All ingredients can be found in well stocked food markets, and Asian Supermarkets.
TERIYAKI SALMON, MISO CREAM, EDAMAME BEANS & SEAWEED SALAD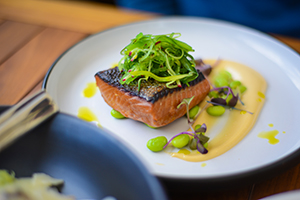 INGREDIENTS
Salmon fillet – 120g per portion (for 6 guests allow approx. 750g salmon)
1 cup edamame beans (fresh or frozen)
Fresh coriander (handful)
Fresh Vietnamese mint (handful)
Crispy shallots (handful – available at most Asian supermarkets)
120g seaweed salad (available at most Asian supermarkets)
TERIYAKI MARINADE
2 cups soy sauce
8 tsp honey
3 tsp ginger (grated and finely chopped)
MISO CREAM
1 egg yolk
25g Dijon mustard
25ml white wine vinegar
35ml soy sauce
35g miso paste
30ml lemon juice
600ml oil
2 cloves crushed garlic
METHOD
Portion salmon. Combine marinade ingredients, pour over salmon, cover and marinate overnight. To make the miso cream, blend the garlic, egg yolk, Dijon and miso until a paste is formed. Add the vinegar, soy sauce and lemon juice and blend until combined. Add the oil in a thin stream until combined. Season to taste. Cook the edamame beans for approx. seven minutes in seasoned boiling water, then refresh in cold water. To cook salmon: Sear flesh side down first in a hot pan then transfer to oven for 10 – 15 mins at 180°C.
TO SERVE
Smear miso cream in a pool on the plate. Place salmon in the centre. Scatter edamame beans over the salmon and pile seaweed salad on top. Garnish with coriander, Vietnamese mint and crispy shallots. Serve with a side of Basmati rice.
If you are expecting guests for dinner, you may also wish to try this simple recipe for Salted Caramel Pot de crème.  You can accompany this with some gluten free biscotti, or some poached fruit.
Salted caramel pot de crème (makes 8)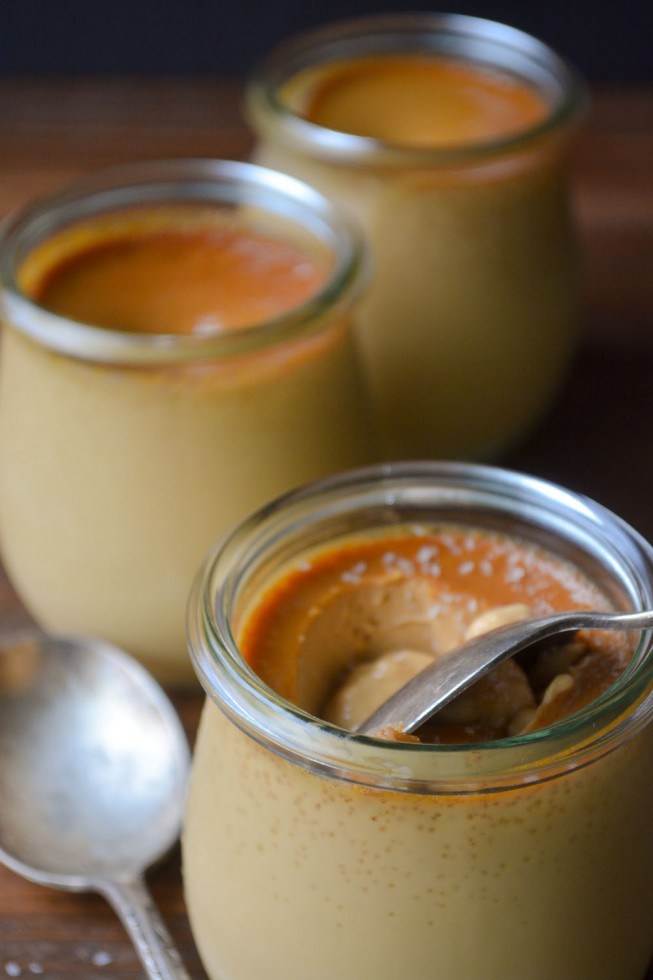 INGREDIENTS
56gr butter
165gr brown sugar
½ tsp salt
½ vanilla bean (split lengthways)
1 ¾ cup cream
¾ cup Milk
6 large egg yolks.
METHOD
Put a rack in the centre of the oven, preheat to 160 degree C. Place 7x ramekins in a baking pan.
In a saucepan, melt butter whisk in sugar and salt, scrape out vanilla seeds and add to the mix.  Stir for 5 minutes until the mixture is nutty and caramelised.  Reduce the heat to low and whisk in the cream.  Whisk for 5 minutes until the sugar has dissolved, then remove from the heat and add the milk.
In a bowl, whisk the egg.  Gradually whisk in the warm caramel mixture.  Strain the custard with a sieve and pour into ramekins.
Pour hot water to half way up the sides of the ramekins.  Cover with tin foil and open one corner to allow the steam to release.  Bake until they just set around the edges. Remove the bubbles from the top.
Bake until the pots de crème are set but jiggle slightly when nudged, approximately 35 to 45 minutes.
Cool to room temperature, then cover with plastic wrap and chill until firm.
Enjoy!
https://www.dishcatering.co.nz/wp-content/uploads/2019/03/Image-1-004.jpg
1334
750
Haley Worsnop
https://www.dishcatering.co.nz/wp-content/uploads/2019/06/dish-catering-logo_white.png
Haley Worsnop
2022-11-25 19:09:58
2023-02-01 10:25:29
The truth about Gluten….