a brief history
Banh Mi is the Vietnamese word for "Bread".  In Vietnamese cuisine, Banh mi also refers to a baguette style roll that is split length ways and filled with a variety of tasty ingredients such as Vietnamese pork sausage, pickled vegetables, cilantro (coriander), cucumber, and condiments from French cuisine such as pate, mayonnaise and chilli.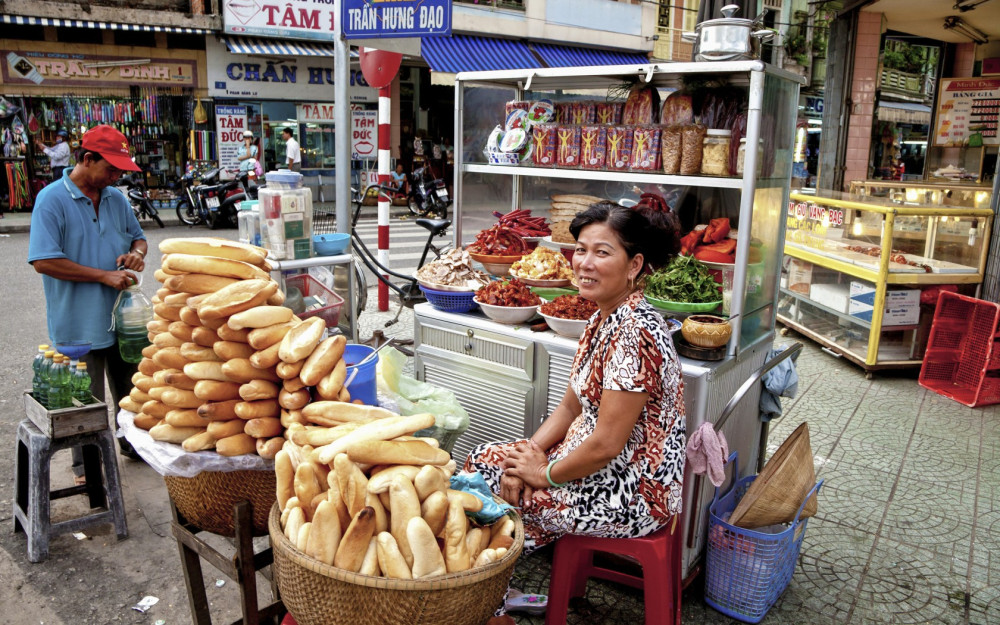 The baguette was introduced to Vietnam by the French in the mid-19th century when Vietnam was part of French Indochina, and had become a staple food by early 20th century.
During the 1950s, a distinctly Vietnamese style Banh mi was developed in Saigon and became a popular street food.  Following the Vietnam war, the Vietnamese colonized countries such as Australia, Canada and the United States, and subsequently set up food trucks and fast food shops, and these sandwiches became a Vietnamese Icon Internationally.
banh mi saigon, napier
Banh Mi has come to Napier! Banh Mi Saigon was opened by Cong Dinh and his lovely wife in Green-meadows shopping centre earlier this year, and it has been an instant success!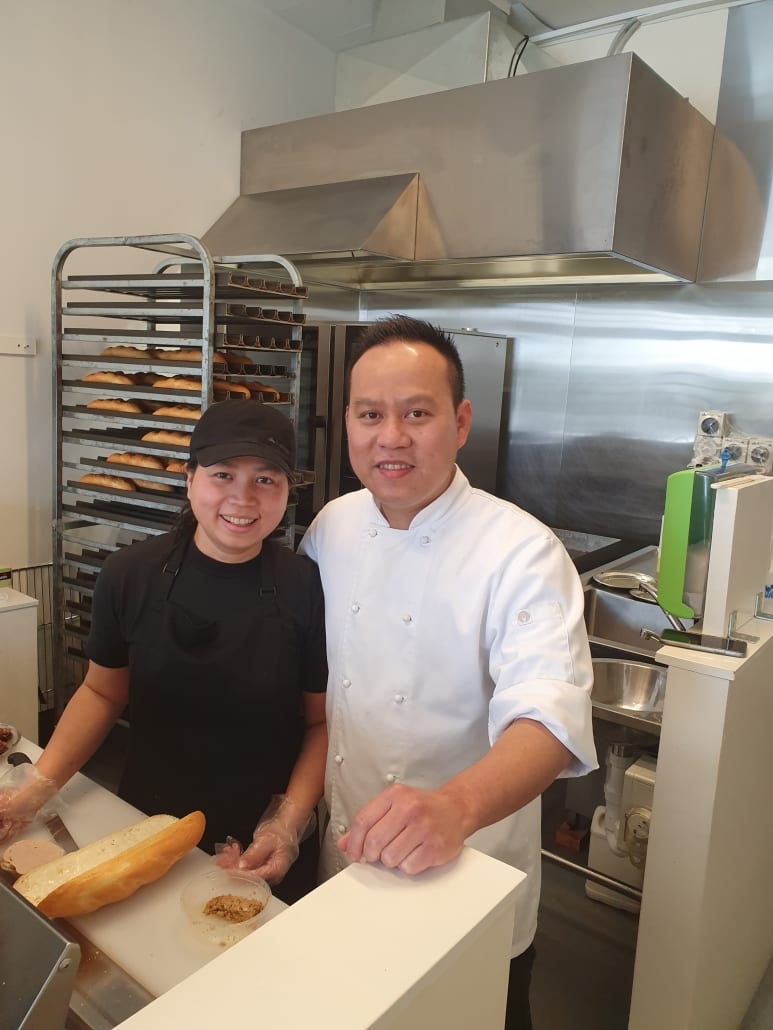 When I arrived to meet with Cong, there were three customers ahead of me, and more streamed through the doors.  This is pretty standard over meal times at Banh Mi Saigon, so be prepared to wait, but it is well worth it to enjoy a fresh hot Banh mi! In fact, it was so busy, they could barely spare a moment to talk to me!
I ordered the newest addition to the menu: Banh Mi Pork – BBQ Style Pork, peanut, pickled carrot and daikon, cucumber, red onion, coriander & chili  –  a steal at only $7.50 and it did not disappoint. What can I say, the combination of flavours, freshly baked bread – warmed slightly, fresh crisp produce, tasty marinated tender cuts of meat and the range of accompaniments, I truly believe that there is something on the menu for everyone.
For the more adventurous, I would recommend ordering the Banh Mi Saigon for a true authentic Vietnamese experience.  Cong tells me that they make their own Chicken pate on site, it is very light and but adds beautiful texture and flavor. The other stars of the dish are the Vietnamese sausage, Braised Pork, Garlic sausage, Pork Floss, Pickled carrot and daikon, cucumber, red onion, coriander and soy sauce.  To give it an extra bang, be sure to ask for some chilli!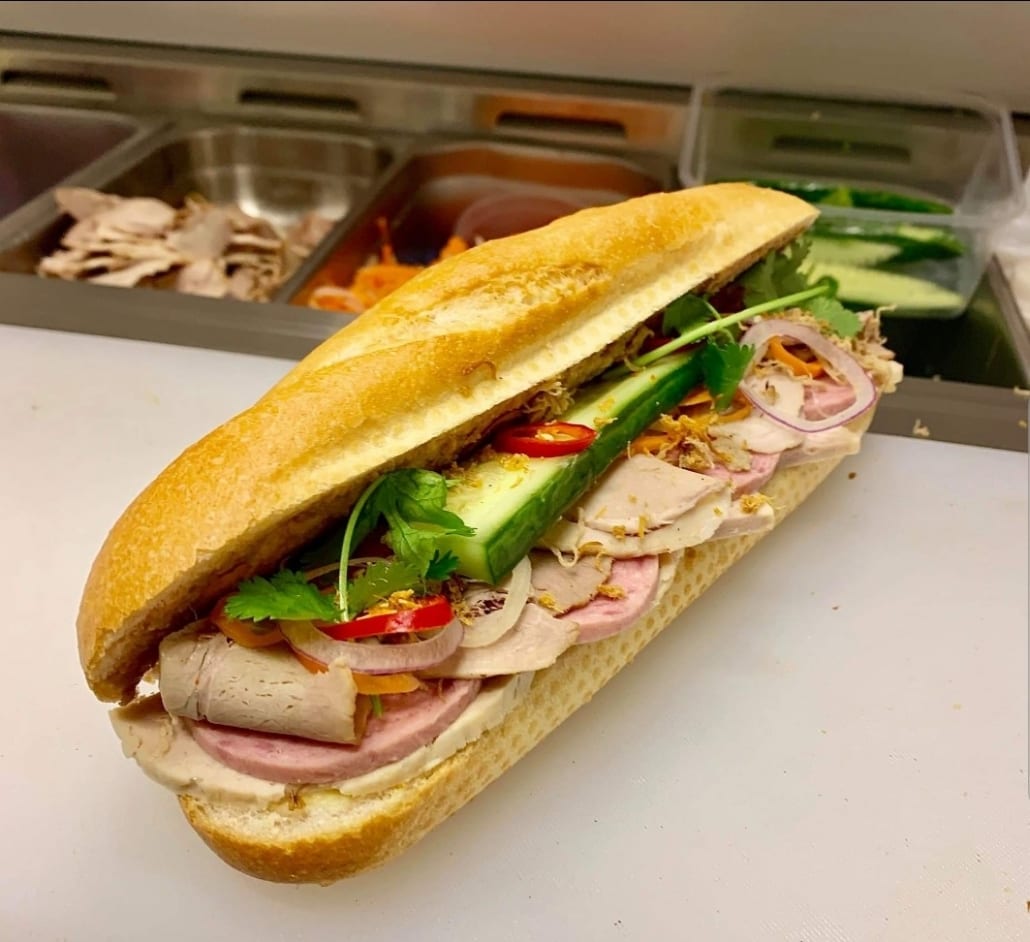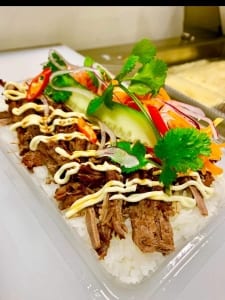 Cong even has a gluten free option for his customers with allergies or intolerance's; hot steamed rice instead of bread.  Just ask at the counter.
When things quieten down in the shop, Cong quietly tells me that his main inspiration for opening Banh Mi Saigon was his lovely wife.  Banh Mi is her favourite dish from their home land of Vietnam. They now work side by side in the shop, and are able to enjoy more time together and with their young son, Tiger. Cong tells me that he is also very proud to share something of their homeland with the people of Hawkes bay.
worldly experience
I was curious to understand where Cong had come from, and how he had gained such a passion for food. His love of food, his skill and talent for creating fabulous dishes was obvious when he worked for us at Dish.
Cong has been a Chef for 18 years and has worked all over the world including Vietnam, Italy, Hong Kong, Macau and New Zealand. He has gained a wealth of experience in International cuisine having worked in Chinese, Japanese, Korean and American restaurants all over the world.
Following a dream of travelling and seeing the world, Cong left Vietnam and worked for one year on the biggest Cruise Ship in Asia, the Star Cruise.  This was followed by a two-year stint in Italy working for Costa, the Biggest Italian Cruise liner. A return to Asia took Cong to Macau to work in the kitchens of the Luxurious a Multi- award winning 5-star Galaxy hotel.
Six years ago, New Zealand gained a very talented Chef when Cong moved from Vietnam to New Zealand. Cong worked as a chef for the Hilton in Auckland for more than 2 years.  Dinh and his family moved to Napier in 2017, where Cong was employed as the Sous Chef for Dish Catering at the Napier Conference Centre before opening Banh Mi Saigon.
So experience a true taste of Vietnam here in Hawkes Bay by visiting Banh Mi Saigon, and don't forget to take a Crème Caramel home for dessert…. they are simply Amazing!
the menu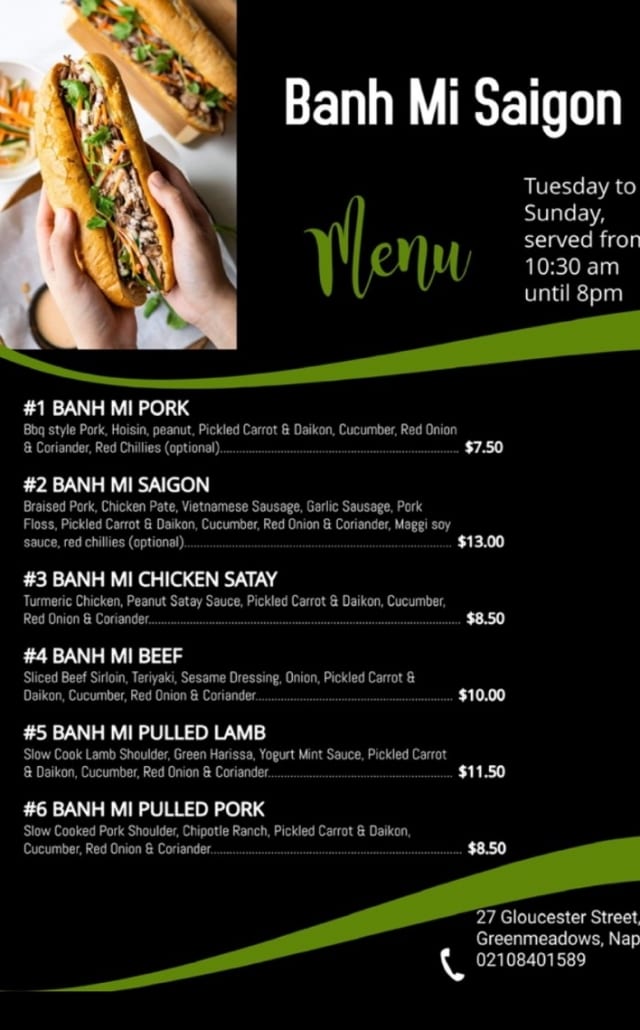 https://www.dishcatering.co.nz/wp-content/uploads/2019/10/web-1.jpg
972
1063
Haley Worsnop
https://www.dishcatering.co.nz/wp-content/uploads/2019/06/dish-catering-logo_white.png
Haley Worsnop
2023-01-10 22:28:48
2023-02-01 10:25:27
Banh mi Saigon – a Vietnamese experience in Hawkes Bay.